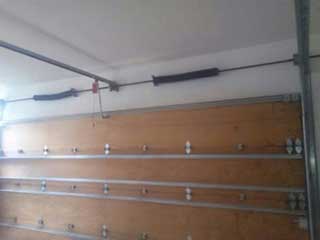 Your garage door uses powerful springs to help it open and close effortlessly. These components are subjected to a great deal of strain each time they're used. Although they are built to last, over time they will begin to weaken, and will eventually break. This will prevent your door from being used. Our technicians can quickly perform the required spring replacement when this happens, and even help increase the longevity of these components with some regular maintenance.
Professional Assistance Is Required
If your overhead door has suffered an unexpected breakdown, getting things fixed quickly becomes a major priority. However, you must never try to replace or even adjust your springs by yourself. These components are under too much tension to make such an effort worth the risks. Our team always carries spare extension and torsion springs with them when they go out on a call, and that way we can carry out the replacement procedure on the spot.
Two Different Types
Torsion springs are the safer and more durable of the two different types that are used today. They're strong and flexible, and work by twisting and unwinding in order to generate the torque required to pull your door off the ground. Extension springs are the older variety, and they tend to be more dangerous. So much so, in fact, that they are often interlaced with safety cables that are designed to hold the springs in place in the event that it breaks. They're usually used for garages with low ceilings, as they are installed in pairs on each side of the door, and not above it like their torsion counterparts.
Maintenance Is The Key
Garage door springs will inevitably wear out over time, but their service life can be dramatically extended with regular maintenance. Our technicians will lubricate them to ensure easy movement and corrosion resistance, as well as test and adjust their tension in order to make sure your door remains properly balanced. If during our regular inspections we discover that a spring is about to break, we will replace it on the spot to prevent an unfortunate accident from occurring.
Book An Appointment Today
Don't hesitate to contact Garage Door Repair Carlsbad today and schedule a spring maintenance appointment. If you suspect these components are about to break, or if they already have and you need a professional to replace them, our team can help you with that too.
Count on us for:
Part Replacement & Repair
Torsion Spring Adjustment
Overhead Door Installation